I saw my sixth Billy Idol concert last night. 
Interestingly, as a nearly 35 year old, none of the prior five concerts occurred in the 80s. 
Or even the early 90s.
A true MTV baby - so much so that in 2001 I
won a game show
in which I had to identify music video clips, sometimes only one second long - I
loved
 Billy Idol as a child. I didn't understand what "sink another drink" meant, or what rocking the cradle of love would exactly entail, but I wanted to do all those things and more, everything that Billy would invite me to do. With each new single, video, fist-pump and sneer, I cried, "More! More! More!"
But I was locked in a tower as a child, and I have no recollection of Billy Idol ever even performing a concert in Syracuse or at its nearby performing arts centers. I just watched his videos in my parents' only half-finished basement, feeling the cold, red-painted concrete floor beneath my toes, incorporating lyrics from "Eyes Without a Face" into my diary entries.
The first Billy Idol concert I got to see was as an adult, in my 20s. By the time I'd spotted the show listing in the back of Time Out New York's music section, it was already sold out, but the Bottom Line box office advised that they might be releasing some tickets for an added late show, so I should come and stand in line.
I left my job at Atlantic Records early that day, trying not to listen to my questioning coworkers calling after me, "You're going where? WHY?"
It was raining.
I was alone.
When I arrived to the now-defunct Bottom Line "cabaret," a sit-down venue better-known for Bleecker Street-era folk performances and current public radio stars than aging 80s rockers, there was a pretty big line outside already. For some reason, none of us had umbrellas.
And we waited.
For hours.
One show down, and the late show already starting by the time I got into the venue, I left dozens of fans behind me in the rain, squeezing myself into the standing room only house next to a pole. 
And I was rapt.
These were the acoustic days of Billy Idol, the precursor to his VH1 Storytellers special, when songs like "Rebel Yell" and "White Wedding" were performed by only Billy and his lifetime partner-in-song Steve Stevens on guitar, stripped of their 80s veneer and allowed to be what they are - just good songs.
Since then, the Bottom Line has closed, and Billy has moved on up to sold-out shows at the much bigger, rock-worthy Hammerstein Ballroom, which fills with goth teens, aging punks, white collar nostalgics, heavy-set girls wearing push-up bras, and me wearing sparkly tee-shirts and flip flops.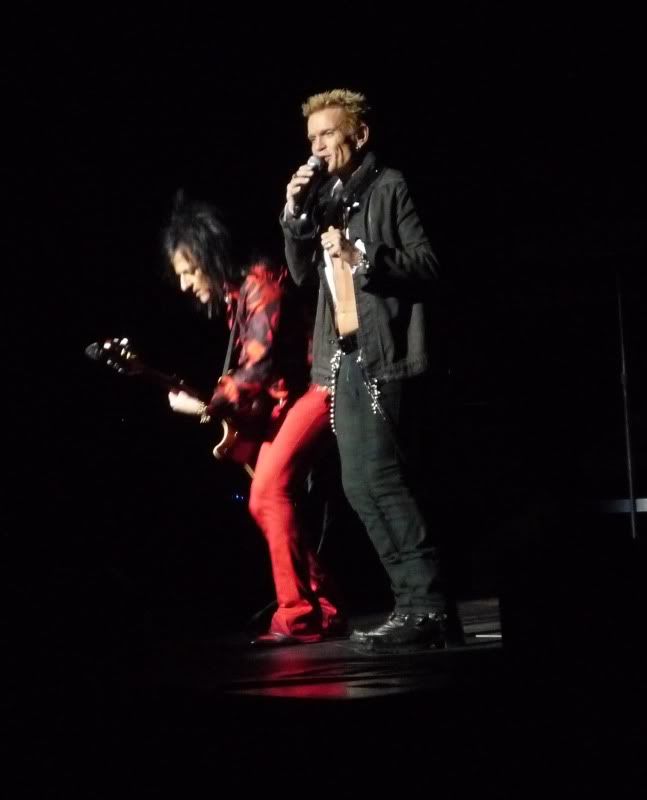 Last night's show was awesome as always, completely predictable in a comforting, restorative way that gives the audience a (whiplash) smile for the duration of the show.
But as good as it was, as happy as it made me, I kept waiting for the band to play songs I knew I would never hear.
I hadn't stood in the rain for hours for my ticket. I didn't have to go to the show alone. I'd weaseled my way up to the front, just a couple people away from the stage barrier. And yet I felt disappointed that he hadn't played "To Be a Lover," one of my favorites - which he never plays - OR "Cradle of Love" - which he has played before - or, for God's sake, "Hot in the City," which he always plays, especially in New York, the name-checked city we're hot in in the song!
Am I forever cursed to be disappointed if I seek out that which is missing, rather than appreciating what I have, what I've been given? If Billy Idol had indeed played all the aforementioned missing songs, would I be complaining that he hadn't included some rarity, cover version, extended mix, or Christmas song in his set list?
As good as Billy Idol concerts always are, couldn't they always be...better? Or is it just that I can't get enough?
Looking back on that first concert at the Bottom Line, though, I don't think it could've gotten any better. Sure, I could've seen better, and not had to have strained my neck from far stage right. I could've been dry and not rain-soaked. And I could've caught more than a glimpse of Billy as he bolted out of the stage door into his getaway car while I and several other crazed female fans chased him down. But I wasn't for one moment disappointed in the music, or in Billy. I'd worked so hard to get in there. And I knew I'd have to see him in concert again, as many times as I could.
Sure, last night I would have liked to hear a couple more songs, but thankfully I included Billy Idol's Greatest Hits in my collection of Desert Island Discs to bring to Queens with me, as well as Rebel Yell, Vital Idol and the "To Be a Lover" 12" on vinyl, so I can listen to them whenever I want.
And I know that there will be more Billy Idol concerts to attend, as long as we're both alive, and as long as I'm not forced to move back to Syracuse...